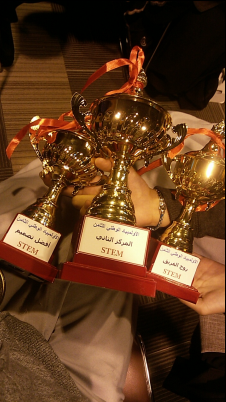 Nine teams from Dhahran Ahliyya Schools- Girls' side, from Elementary, Intermediate and Secondary participated in the 2015 Eighth National Robot
During this Olympiad, our students made remarkable accomplishments:Olympiad at the level of the Eastern Province. This competition took place on Sunday and Monday, April 19 & 20, 2015 at the Third Intermediate School in the fields of STEM, SUMO and RoboCop.
In STEM field, one of DAS Intermediate Teams won the Second Place, the Team Spirit Award and Best Design Award. The team comprised of Fatima Al Sabti and Leena Al Zayer from Grade 7.
As for the RoboCop field, another DAS Intermediate Team won the Best Design Award. The students are Joud Al Essa from Grade 7 and Zeena Al Abandi from Grade 8.
Furthermore, the High School Team received the Best Technical Programming Award in the same field. The team comprised of Deema Al Abduljabbar and Rania Al Ghamdi of Grade 10.
We wish our students the best of luck.