26th International Invention and Innovation Exhibition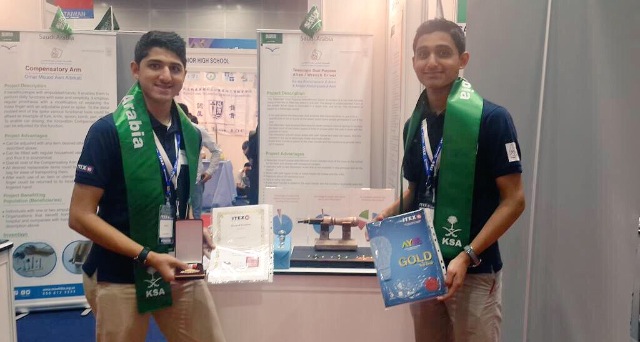 Two DAS students qualified to compete in the 26th International Invention and Innovation Exhibition ITEX 2015 which took place from May 21-23, 2015, in Kuala Lumpur, Malaysia. The students qualified at the National Olympiad for Scientific Creativity Kingdom-wide and then winning all the workshops rounds. The students are Ammar Abdulrazzaq Al Amir and Bara' Abdulrazzaq Al Amir from grade 10.
ITEX is Asia's largest leading invention exhibition. Gathering the world's most prolific inventors aged 20 years and below, ITEX provides a platform for the students to flaunt their discoveries. It also allows these youths to meet like-minded young inventors and their mentors from neighboring countries and around the world. A plethora of invention enthusiasts attend the exhibition and it is supported by an ever increasing attention from business communities. In ITEX 2015, more than 1500 students- both male and female- showcased more than 100 scientific projects in the categories of engineering, equipment …etc.
For their Innovation "Telescopic Allen Key Driver ", Ammar and Bara'a Al Amir won the Gold Medal worldwide in the category of machine and equipment. This medal is given to three competitor only. Ammar and Bara'a's team is the only foreign team who received this medal in that category. Furthermore, they received a Special Award from the International Inventions Organization in Thailand.
Congratulations to Ammar and Bara'a for this achievement and to the Kingdom of Saudi Arabia for Saudi delegates' achievements. It is worth noting that all members of the Saudi delegates won prizes or special awards.
Congratulations to our students. Wishing them much success!