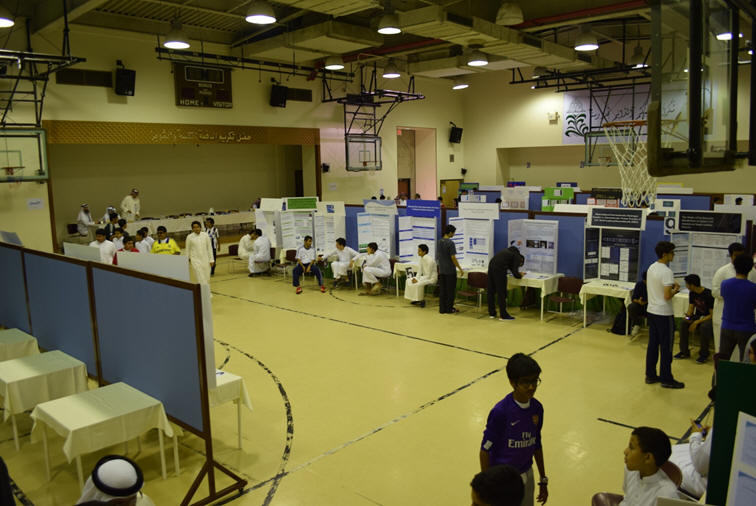 Organized by King Abdulaziz and his Companions Foundation for Giftedness & Creativity (Mawhiba), the 2015, the local National Olympiad for Scientific Creativity–Innovation and Scientific Research Fields took place on Wednesday, November 19th, 2014.
Proudly, out of the 90 DAS Participants, Forty-eight qualified to participate in the next round of competition at the provincial level, with a total of total of 33 projects: 21 are for the scientific research field and 12 for the innovation field.
The school would like to congratulate all the students who qualified. We wish them much success as they continue in the subsequent rounds of the competition. The students are:
1- Obay Tawfiq
2- Hassan Al Jishi
3- Khalid Al Faqih
4- Mohammed Al Aqeel
5- Saleh Al Hamad
6- Faisal Al Hamad
7- Hamad Al Dossary
8- Mohammed Al Hussain
9- Mohammed F. Al Zamil
10- Ahmed Alabduljabar
11- Sa'ad Al Ajaji
12- Rakan Al Habdan
13- Majid Al Mubarak
14- Abdullah Al Rayes
15- Khalid Al Matar
16- Tamam Al Alqam
17- Ahmed Al Saif
18- Sultan Al Qahtani
19- Mohammed Al Amir
20- Saif Al Ahmadi
21- Khalid Al Turki
22- Abdullah Al Rabe'a
23- Mohammed Al Zamil
24- Mohammed Al Attas
25- Ahmed Tashkandi
26- Ahmed Khashugji
27- Khalid Al Saeed
28- Sa'ad Al Ahmadi
29- Ziyad Al Omair
30- Nasser Flemban
31- Sharif Afifi
32- Faris Al Dulaijan
33- Abdullah Al Askar
34- Moa'th Al Zayer
35- Abdullah Al Hussain
36- Abduljabbar Al Hamoud
37- Faisal Al Dossary
38- Ammar Al Amir
39- Mohammed Bukhashim
40- Saud Al Maglouth
41- Abdulaziz Al Shurai
42- Razi Al Alqam
43- Abdulmalik Al Harthi
44- Maitham Al Zayer
45- Mohammed Al Ghamdi
46- Bra'a Al Amir
47- Hassan Bukhamseen
48- Waleed Al Hindi
We would like to extend a heartfelt thanks to the students for their effort, their parents for their continuous follow-up and support, DAS faculty and staff especially the Technology Department, the Math and Science Department . Also, we thank all our students who participated wishing them best of luck in the future competitions.
Congratulations!