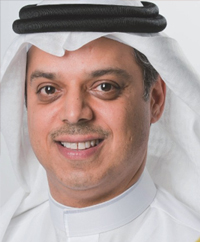 Abdulla M. AI Zamil is a member of the Board of Directors of Zamil Industrial Investment Company (Zamil Industrial). He was appointed Chief Executive Officer (CEO) of Zamil Industrial in October 2009. He acted as Chief Operating Officer (COO) of Zamil Industrial since January 2004. Prior to that, he was Senior Vice President of Zamil Air Conditioners and Zamillndustrial's Shared Services. He began his professional career in 1987 with Zamil Air Conditioners as an Industrial Engineer and subsequently Vice President, Sales & Marketing and Purchasing & Materials Management.
He is also a Board Member of the following companies:
Internal Board Assignments
• Chairman of the Board, Zamil New Delhi Infrastructure Private Ltd.
• Board Member, Gulf Insulation Group (GIG)
• Board Member, RANCO Zamil Concrete Industries
• Chairman of the Board, Middle East Air Conditioners Co. (GE)
• Zamil Steel Industries - Egypt
• Zamil Steel Industries - Vietnam
• Vice Chairman, Zamil Chemplast
External Board Assignments
• Gulf International Bank- Bahrain
(Owned by the Public Investment Fund in Saudi Arabia)
• Chairman of the Board, GIB Capital
• Chairman of Board, Saudi Global Ports LLC (SGP)
(Joint venture between KSA Public Investment Fund and Singapore Port Authority)
Charity & Community Services
• Saudi Food Bank (Etaam)
• Endeavor - Saudi Arabia
• Asharqia Chamber of Commerce & Industry (Eastern Province)
He holds a Bachelor degree in industrial Engineering from the University of Washington, Seattle, USA, and an MBA in Finance and Business Administration from King Fahd University of Petroleum and Minerals (KFUPM), Dhahran, Saudi Arabia.