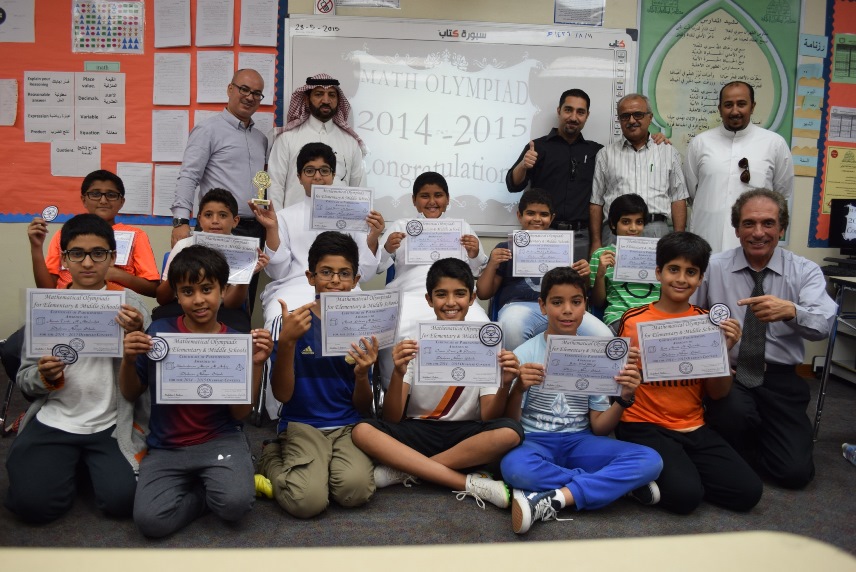 For the first time in the category of Elementary and Intermediate students, a group of Dhahran Ahliyya' grades 5 and 6 students participated in the Math Olympiad among 96002 other students –both male and female- divided into 4986 teams. This Olympiad started on November 2014 and lasted until March 2015. During this period, the students went through weekly training and standardized international monthly exams that are corrected by a specialized outside committee. Our students made the following remarkable achievements:
Faisal Al Hussaini-Grade six- received the 1st Place Cup and scored among the top 2% worldwide, Salem Saleh -Grade five- scored among the top 10% worldwide and Abdullah Alabdulhadi and Ahmed Al Jehani -Grade six- scored among the top 20% worldwide.
Overall, all DAS participants made significant achievement and demonstrated an impressive representation of the schools. The students are: Ibrahim Al Sinan, Abdullah Al Qahtani, Zaid Al Quraishy, Bader Bultaji, Moath Amir, Ahmed Al Abdulwahed, Omar Al Dossary, Ahmed Soleja and Abdulrahman Al Arfaj. They were all awarded with gold and silver medals and certificates.
Congratulations to our winning students for their achievements. Also, we would like to extend sincere thanks and appreciation to the team's coaches; Motasem Barakat and Hazim Abu Al Rab for their effort in preparing the students throughout the Olympiad, Grades 5-6 Supervisor and the Activities Department for their continuous follow up.
Congratulations