The first few years of the child's life are the most crucial years in shaping the child's characteristics in all aspects; physically, mentally and psychologically. Those aspects impact the child to become a thinking, passionate and interactive learner who makes a positive difference locally and globally and contributes to building the community. In order to accomplish this goal, we strive to develop and enrich our educational programs, engage teachers, parents and children in the educational process and keep them up-to-date with all the latest techniques designed for this age range.
Our Goal:
Considering their age ranges, we aim to fulfill the children's needs to become passionate, interactive, life-long learners in the rapidly changing world. Based on this goal, the Kindergarten educational curriculum is designed according to a scientific, mental and behavioral basis.
Religion:
The curriculum includes short Quranic surahs and prayers. We reinforce the curriculum by instilling Islamic values; practicing and relating those values to real life.
Language: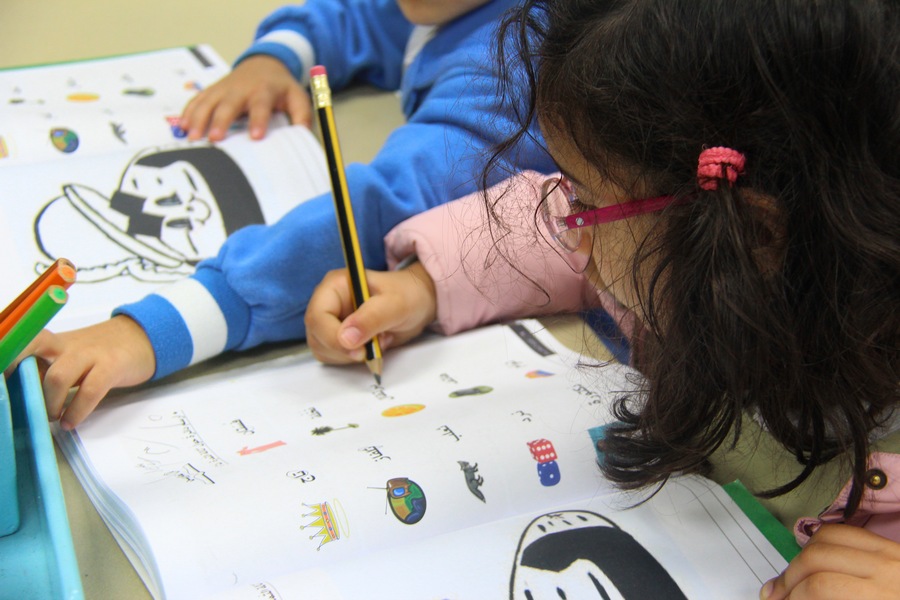 We are fully aware of the children's needs for understanding, listening and expressing. In order to further their understanding of the world around them, children need to go through a wide range of experiences, dealing with different materials and ideas. These experiences build and develop the children's language abilities. At Dhahran Ahliyya, we support the Kindergarten language curriculum by implementing a wide selection of methodologies such as story-telling, poetry recitation, reading strategies and writing texts. The curriculum also includes teaching the alphabet in terms of letter recognition, phonemic sounds and shapes in different parts of the word as well as writing the letters in the correct way. By applying the Balanced Reading Program (guided reading, independent reading and shared reading) children who move up to grade 1 are able to read, understand and comprehend written text.
Fine Motor Skills:


From arts to writing activities, we implement the use of different materials in order for children to learn how to move, control and coordinate the movement between their eyes and their hands.



Large Motor Skills:
In order for children to learn how to move their bodies spontaneously without thinking, they must acquire large motor skills. We teach them how to control their muscles to be able to jump, run and develop their ability to balance.
Science:
The science units mainly aim at furthering children's understanding about the world around them and at encouraging them to explore and investigate. We offer a variety of opportunities for the children to experiment and interact with their environment. They go through various enriching, daily experiences where they implement and develop observation and comparison skills.
Mathematics:

In mathematics, we focus on children's learning by implementing the educational strategies that support their thinking. There are three basic principles;
First Principle: Encourage children to think actively of their answers.
Second Principle: Encourage children to reflect on their thinking. They learn to think of how they got this answer for a mathematical problems.
Third Principle: Encourage children to represent their thinking in words, images and symbols.