The PYP action cycle occurs when meaningful action from students takes place as a result of the learning process that incorporates students making connections to what they have learned, applying a variety of real life skills, demonstrating an enduring understanding through concepts and reflecting on the attributes of the learner profile and attitudes.
At DAS we strive to provide students with opportunities to choose, to act, to decide on their actions and to reflect on these actions in order to make a difference – all of which are an integral part of the PYP.



What does action look like?
There are four forms of action:
| | | |
| --- | --- | --- |
| Action | Description | Example |
| Direct Action | Person to person or person to environment | A student picks up liter even though he/she did not drop it. |
| Indirect Action | Person to community | A group of students or a class raises money from a 'Bake Sale' for an organization. |
| Advocacy | Creating awareness | A student reminds his/her classmates to recycle waste paper or a group of students create a campaign to recycle and share that information. |
| Research for Action | Learning in action / action in learning | A student borrows a library book on his/her own to extend knowledge about something that was learned or pursues his/her own inquiry and shares with the class. |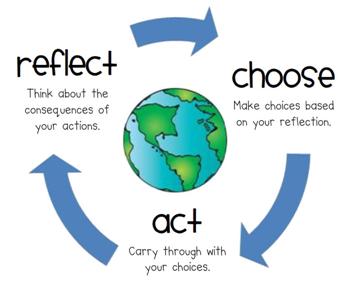 How do we teach students to take action?
Regardless of which form of action students take, using the Action Cycle as indicated in the PYP, students are able to grow socially and personally, developing skills such as cooperation, problem solving, conflict resolution, and critical thinking. This is an important part of students' participation in their own learning.
Parents can help by encouraging their children to share their action about something they have observed by filling in the form attached below and sharing it with their classmates and teachers.
for more information please visit http://www.ibo.org/