Welcome to Dhahran Ahliyya Schools
Dhahran Ahliyya Schools (DAS) aim to prepare girls and boys to be thinking, caring, healthy individuals who will contribute to sustainable development and thrive on the challenges of the changing world. Consistent progress toward this goal has been achieved through the Schools' vision of itself as a professional learning community committed to the continuous learning of all members, including students, parents, faculty, staff and others who participate in its development. As a result, the schools have acquired a reputation for providing a caring and supportive atmosphere and for maintaining high academic standards. In the school's philosophy, these two factors are strongly linked to each other and to developing the strong self- esteem and commitment to life-long learning that is essential for students' happiness and productivity throughout life.
Originally a private Arabic-medium day school, DAS is now a dual language school moving gradually toward a more international curriculum. DAS was founded in 1977 (1397 Hijiri) by Khalid Ali Alturki and his wife, Sally Alturki. The schools are proud to have the Governor of the Eastern Province, HRH Prince Mohammed bin Fahd bin Abel Aziz Al Saud, as the Honorary President. The school budget is covered through tuition and donations.
› New International Program
› Curriculum and Instruction
› Languages
› Examination and Marking Systems
› The Student Support Unit (Previously called The Early Intervention Program)
› Co-curricular Programs
› Community Service, Clubs and Athletics

New International Program
Welcome to the beginning of a new era at DAS – the beginning of our new International Program. All students from pre-school through grade 8 (second intermediate) will take the same dual language international program. On entering grade 9 (third intermediate), they may choose either the International Secondary Program or the Saudi government Muqararaat Program the same one that we have had at the secondary level since 2005. Whereas the International Secondary Program will focus on English and the Muqararat Program will focus on Arabic, students in each program will take many of their subjects in the other language so we will continue to develop their abilities in both English and Arabic. The first class in the International Secondary Program will be starting 9th grade in 2009-2010 and will graduate in 2013.

What are the advantages of establishing this new program?
Our goal is to provide a dual language program through which our students are able to learn, work, and think in both English and Arabic. Research has shown that students who are proficient in more than one language are able to achieve at higher levels, are more able to use creative problem solving skills and are better able to interact with people from other parts of the world. These are among the skills they will need to meet the challenges of Saudi Arabia in the coming decades. Because these are twenty-first century children, they need twenty-first century skills and attitudes. We believe it is good for the students and good for our country to give them this kind of preparation.

What will we gain through this program?
We will be able to give our students better language skills in both English and Arabic.
We will be able to put our own standards and curriculum at all levels. As a result, we will be able to broaden and improve the curriculum for both languages.
We will also be able to choose current textbooks to serve our curriculum. Along with the textbooks will be up-to-date instructional materials and teaching guides that are more appropriate for teaching 21rst century skills.
We will be able to use more effective means of assessing and reporting learning – projects, research, presentations, and other means – and give enough credits to such projects that students are motivated to work on them.
Our students and teachers will be able to benchmark their skills with other students all over the world. In this way, we will really know whether or not our students are achieving at world class levels.

Is this program accredited?
To accomplish our mission, we are planning our own dual language curriculum from kindergarten through grade 8 (second intermediate). For the 9th grade (third intermediate) , students will choose whether they want the International Secondary Program, which will teach math and science in English, or the Muqararat program , which will teach math and science in Arabic through the government curriculum. Those completing the Muqararat Program will receive the Saudi Ministry of Education diploma. Those completing the International Secondary Program will receive the American Diploma.
DAS has official permission from the Saudi Ministry of Education to implement this dual language international program because it is now accredited by the North Central Association Commission on Accreditation and School Improvement (NCA CASI) which is part of a larger institution called AdvancED . AdvancED, which includes the organization known as CITA, forms the world's largest education community, representing over 27,000 public and private schools, 6,000 school districts in 65 countries and serving nearly 15 million students. DAS earned general accreditation for its K-12 program in the spring of 2009 and so may now begin work to complete other requirements specific to the secondary diploma program within the coming three years.
What is the basis of the new curriculum?
Under the guidance of expert educational consultants, DAS personnel have exerted a great deal of effort over the last ten years studying the standards and benchmarks of several different countries and states as well as guidelines developed by the United Nations, and organizations of international schools. After extensive research and discussion, translation of multiple systems, and piloting of various approaches, DAS has now established world class standards and benchmarks for math, sciences, English, geography, physical education, art, and technology. Work continues on the finalization of standards for Arabic and the development of standards for Islamic studies, and history. These standards clarify what we are targeting. Our approach to work must now be revised and re-aligned in order to ensure that our students will be working at the expected level. Information about these standards will be shared gradually with the students and parents as our ability to work toward them increases.

How will DAS prepare the students for secondary?
Until the beginning of the 9th grade (third intermediate), the program will be the same for all DAS students. Because of the research that emphasizes the importance of children learning the basic subjects in their own language first, our focus in kindergarten, first and second grades will be on introducing math and science in Arabic while we are developing English language skills. At grade three, we will begin teaching science in English and at grade four we will introduce math in English. From grades 3-8, we will gradually be increasing the amount of time and subject matter that will be taught in English but without neglecting the Arabic. The students will use the same series of books in English and Arabic for math and science but will alternate languages year after year in order to be sure that they develop in both languages, not just one. The plan for the teaching of math and science is shown below. Throughout all these years, the students will continue to take Islamic studies, Arabic language, and history in Arabic. Other subjects will change as needed in order to give the students a balance of both languages.
| | | |
| --- | --- | --- |
| Grade Level | English | Arabic |
| 3 | English and science | Arabic, Islamic studies, history, math |
| 4 | English and math | Arabic, Islamic studies, history, geography, science |
| 5 | English, geography and science | Arabic, Islamic studies, history, math |
| 6 | English, geography and math | Arabic, Islamic studies, history, science |
| 7 | English, geography and science | Arabic, Islamic studies, history, math |
| 8 | English, geography and math | Arabic, Islamic studies, history, science |
| 9 | English, geography, science and math | Arabic, Islamic studies, history |
How will learning be assessed in grades K-9?
In the first phase, assessment and grading at grades K-6 will continue as they have been through the application of continuous assessment; however, a new system is currently under study because it is better aligned with standards-based teaching, and will be gradually changed when it has been approved by the Ministry. In addition, DAS is using international instruments for external standardized testing for Arabic (AlMaqyaas Limaharat Allogha AlArabia), English, and math (MAP). The results of these assessments are used to guide the planning of the teachers in their attempts to better adjust instructional practices to the particular needs of the students.

A new plan for assessment and grading for grades 7-9 and eventually for the International Secondary Program has already been approved. It is better aligned with twenty-first century skills and will increase motivation for students to put real effort into their projects and other work throughout the year. The equation for this system is as follows:
20 (for work in the first half of the semester)
+ 20 ( for the work in the second half of the semester)
+ 10 (for the final exam)
= 50 for one semester.
When looked at for the whole year, of course, the amounts are doubled to make a total of 100. The specific assignment of those 20 points for each half of the semester will be defined by each teacher according to the kind of projects and products required.

For grades K-6, there will be no period of final examinations; rather, students will simply continue to have school as usual until the last day of school for all students. For grades 7-9 and the new International Diploma Program, there will be a maximum of one week for final examinations, possibly less. There will be no "review week" and no early dismissal except on the actual days of the final exams. Since most of the students' grades come from the work they are doing during the semester, it is not necessary to give more time as in the past when required grading systems assigned 60% or 70% to the final exam. Those in the Muqararat Program will have examination weeks according to the requirements of that system.

What are the requirements of the two secondary programs?
DAS has decided to introduce the new secondary program gradually in order to ensure that both students and teachers are ready to achieve at the best possible levels. In 2009-2010, students have chosen between the two programs only at 9th grade (third intermediate). There are two sections of the International Diploma program in each school, boys and girls. The other sections of 9th grade and all secondary students are continuing in the Muqararat Program, although some parts of it might be in English.

The requirements of both the Muqararat and the International Programs are shown in the table below. The details of the two will be worked out gradually as the students move up. Whenever the requirements of the two programs intersect – in Islamic studies, Arabic, history, physical education, art, and other subjects -- we will integrate the students from the two programs in order to ensure that relationships among the students are maintained and each side learns from the other.

More will become clear about the details related to the two programs as we proceed. We will be careful to answer questions and give parents more information when we can. This program is new to us all so there will be many details to be worked out and improved as we go. We know that the families are confident that we have the highest concern for our students' well being and their learning. We will bring in the very best personnel and consultants and continue a program of intense and ongoing professional development in order to offer the best programs possible.

How will learning be assessed at the secondary level?
The overall program for assigning grades is slightly different for the two programs. The system applied in the International Secondary Program will be like the one described above except that there will be a total of 100 points for each subject for each semester since courses are all completed in one semester. Therefore, it will be as follows:
40 (for work in the first half of the semester)
+ 40 ( for the work in the second half of the semester)
+ 20 (for the final exam)
= 100 for one semester.
CREDIT REQUIREMENTS OF THE TWO PROGRAMS
NOTE: 1 credit is for a full year's work with a minimum of 5 periods per week. A half credit is one semester's work with 5 periods per week.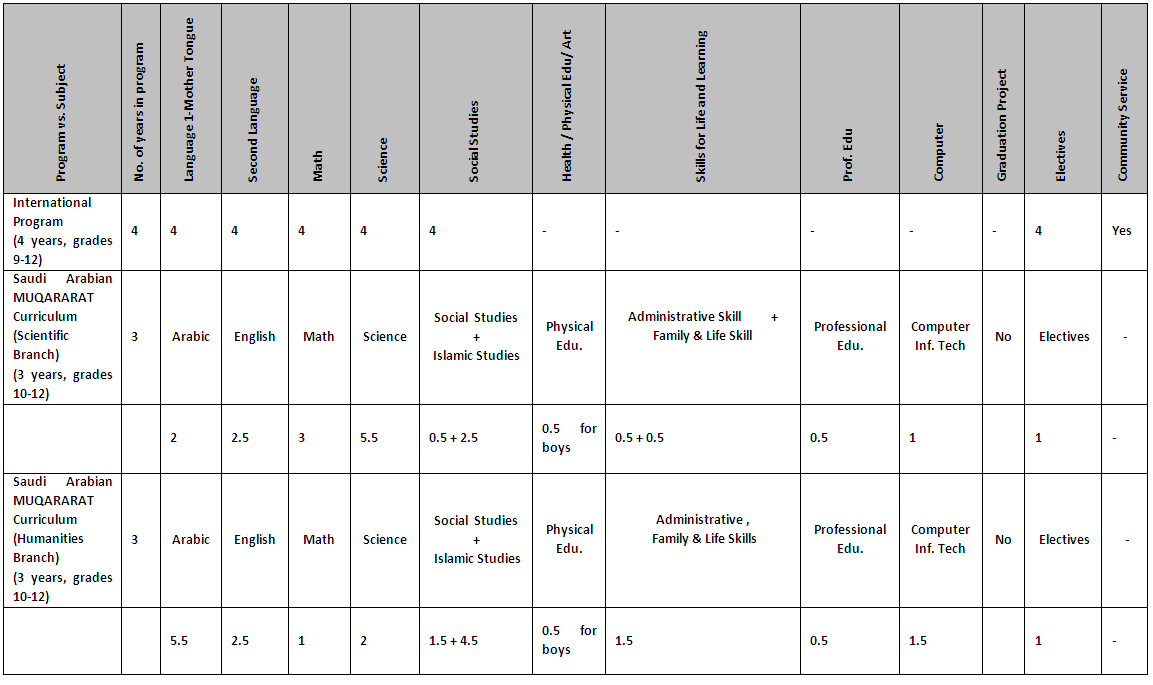 This approach allows the teacher to assign a large number of points for projects and other work done during the year. Current educational research indicates that students learn more of the higher level skills needed for the twenty-first century from these kinds of activities than from a focus on final pencil+ paper examinations.

For the Muqararat Program, the current system will continue to be applied which is as follows:
5 points – attendance
20 points – participation and work done during the semester
25 points – mid-semester test
50 points – final semester examination
100 points – total for the semester
As with the elementary levels, DAS will be using an increasing number of international, standardized tests in order for students to be able to compare themselves with students in other schools around the world and know if they truly measure up to world standards.

What will be the costs associated with the new programs?
It is inevitable that the new programs will require greater expenditures. The additional costs will first be felt by the parents as they have to purchase textbooks that were previously provided free by the government. Other costs will become apparent with the hiring of new teachers for some of the new courses. By the second semester -2009-2010, there will be more clarity about the additions that are needed and announcements will be made at that time. Parents should anticipate increases at all levels but it is difficult to say how much at this time.

What are the answers to the most frequently asked questions about the new International Secondary Program?
1. Is this program accredited?
DAS is now accredited as a school from the Saudi Arabian Ministry of Education and also from the North Central Association Commission on Accreditation and School Improvement (NCA CASI). NCA CASI is part of AdvancED which is the world's largest education community, representing over 27,000 public and private schools, 6,000 school districts, 18,000 volunteers in 50 states and 65 countries and serving nearly 15 million students
All DAS diplomas and official papers will now carry the NCA CASI seal of approval.
Application for accreditation of this particular program from NCA CASI cannot be made until after it has been running for a couple years. We shall apply for the accreditation as early as permitted and expect to have it before any of our students graduate from the new International Secondary program.
2. Are there other schools in Saudi Arabia that have been accredited by NCA CASI?
Yes. There are more than seventy schools in Saudi Arabia that have been accredited by NCA CASI or by its branch, CITA, as schools in a general sense. Only those schools that have had the international secondary program running for a few years could have accreditation for that program specifically.
3. Is NCA CASI recognized by the Saudi Ministry of Education and the Saudi Ministry of Higher Education?
Yes. It was the Ministry of Education that instructed DAS to get accreditation from the local branch, CITA, in order to earn permission to introduce international programs.
4. Will graduates of this program be able to attend Saudi universities?
Yes. Since the program is accredited by the Saudi Ministry of Education, its graduates can attend Saudi universities. Because they have studied in English, it will be easier for those who are entering Saudi programs that are given in English.
5. Will graduates of this program be able to attend international universities?
Yes. Our graduates have always been able to attend international universities. Now it will be even easier because of the additional English and because the program is accredited by an international accrediting agency.
6. What standardized examinations will the graduates be expected to take?
All students will take the TOEFL, the SAT I and the SAT II. It will also be possible to take the Saudi government exams Quderat and Tahseel in Arabic and/or English.
7. How much of this program will be taught in English?
In the first year of the program, at least 23 periods will be taught in English. In subsequent years, the number will increase gradually.
8. Will my child continue to progress in Arabic as well?
DAS has set as its goal that all its graduates will be able to learn, work and think in both languages. For that reason, there will always be a minimum of ten periods in which the medium of instruction is in Arabic, usually more than ten. Furthermore, the Ministry of Education requires that students in the international programs continue to take Islamic studies, Arabic, and history in Arabic.
9. How will the students be assessed and graded in this program?
In the secondary program, grades will be given separately for each semester, just as they are now for the Muqararat program. A variety of assessment tools will be used for continuous assessment of student learning throughout the semester. These tools include: performance tasks, research assignments, laboratory assignments, class work, homework, tests, quizzes, participation, and attendance. Semester grades are assigned according to the table below, according to the learning activities of each marking period, and a mandatory final semester exam. Students are required to take exams at the published time.
The final exam is worth 20% of the student's overall grade, and the final grade is cumulative. The percentage breakdown for the entire semester is as follows:
Marking period 1 = 40%
Marking period 2 = 40%
Final exam = 20%
A student cannot pass a course by only passing the final exam. However, he also cannot pass the course if he doesn't take the final exam. Students must have at least 60% to pass the class.
10. How are students chosen for this program?
Students are chosen on the basis of the level of their English over the previous years.
11. What if my child starts the Arabic Muqararaat program but then decides he wants to move to the International Secondary Program?
If, at the beginning of the 2009-2010 or the 2010-2011 school years, the student passes the exams in English and in math and science in English and if there is space in the class, he can enter.
12. What if my child starts the International Secondary Program and then wants to move back to the Arabic Muqararaat program?
In the first year, he has the right to change within the first 2 weeks. After that, if he can pass the entrance exams and if there is space in the class, he can apply to the Ministry to change at the beginning of a new school year on entry to the 10th grade (first secondary).
13. How will the tuition rates change in this program?
In 2009-2010, the tuition rates will not change. The only increases in cost for the parents in the coming year will be in the required purchase of textbooks for any subject in which government books are not used – math, science for all levels, grades 1- 12, either in Arabic or in English.
In 2010-2011, the tuition rate for the entire school will rise because the expenses for the entire school will be rising. The rate for the International Secondary Program will increase more because the additional expenses will be considerably more. We do not yet know for sure but will inform you at the end of 2009 or before the beginning of the second semester.
Possible tuition rates for New International Secondary Program (Grades 9-12)
2009-2010 --

No change in tuition. Parents must purchase the students' test books for science and math.*

2010-2011 --

Full tuition –

SR40,000 – SR45,000

Aramco --

SR26,000 – SR29,250
Possible tuition rates for all students in grades K-9 + Grades 10-12 Muqararaat
2009-2010 --

No change in tuition. Parents must purchase the students' test books for science and math.*

2010-2011 --

Full tuition –

SR30,000 – SR35,000

Aramco --

SR19,500 – SR22,750
As with the rest of the DAS program, 50% of the spaces are reserved for Saudi Aramco dependents who will pay 65% of the full cost. Any Saudi Aramco students that are outside that 50% quota must pay the full tuition.

*Regarding the textbooks that must be purchased, DAS will bring them and sell them at the beginning of each school year.

CURRICULUM AND INSTRUCTION
With the introduction of the new international program, DAS has the opportunity to revise all of its curricula. This process is taking place gradually in 2010 and 2011.

The first step was to agree on a revision of our standards. The DAS standards for English, Arabic and geography are currently being developed on the basis of those in Delaware in the USA. Science and math are also based on Delaware standards as well as the recommendations of the National Council of Teachers of Mathematics, National Science Teachers Associations, and the American Association for the Advancement of Science. The curricula for history and social studies are being developed on the basis of the AERO standards designed for international schools. Religion standards are being developed in the school on the basis of the school's Targeted Characteristics for its students (see DAS Mission, Vision, and Targeted Characteristics).

As standards, scope and sequence are becoming clarified, teachers are revising their curriculum maps and the design of their units. Now in our third year of training on backward design, through the use of Understanding by Design by McTighe and Wiggins, teachers are collaborating to revise all our units in this format. By the summer of 2011, many of these will be uploaded onto Rubicon Atlas and shared with other schools in both English and Arabic. Althrough we still have a long ways to go to complete and fine tune all our units, the impact on the School's program of using backward design has already been significant.
Inquiry and research have played a growing part in our approach to student learning. All students at all age levels are involved in learning independently and collaboratively through use of the library, internet, and their own projects. Teachers are trained and encouraged to use many learner centered strategies such as cooperative learning, literature circles, service learning, and others in order to ensure a focus on thinking and learning skills as well as collaborative skills and a link with real life. Technology is integrated into the normal instructional process as well as being a separate topic of study.
There are no Advanced Placement courses or sections available. The only accelerated courses offered are in the English program.
LANGUAGES
While DAS has historically been an Arabic school and most subjects have been taught in Arabic, it has always had a strong English program that has been well supported for all age levels and expanded with extra reading, research and presentations. The school is now moving toward becoming a dual language school in which all students reach the level where they can learn, work and think in both languages.

Since research points to the importance of children studying math and science in their own language first, these subjects will continue to be taught in Arabic in the primary years but students will gradually have opportunities to study math and science in both languages in alternating years from the 3rd grade. The target will be to give all students enough of both languages that they are able to choose either of two secondary programs, one focusing more on English and one focusing more on Arabic.

According to the new plan started in the 2009-2010 academic year, students in the elementary level have from 80 to 120 minutes per day in English and the rest of the program is in Arabic. The amount of English increases gradually in the upper elementary and in the intermediate level. The full intermediate and secondary programs will not be reached, however, until the 2012-2013 school year. In the meantime, an increasing number of electives will be offered in English beyond the basic program and some secondary students will be able to fulfill some science and/or math requirements in English.

In the 2007-2008 academic year, DAS started making it possible for some students to fulfill some English requirements through distance learning courses offered by Stanford University's Educational Program for Gifted Youth (EPGY). In the future, it is planned that every student will take at least one distance learning course before graduating from DAS.
EXAMINATION AND MARKING SYSTEMS
Having undergone significant changes over recent years, the marking system is different for each age level. At the pre-school, primary and upper elementary levels, most grades are given through a system of continuous assessment which includes teacher observation, performance assessment tasks, projects, and multiple methods for analyzing students' progress on a continuum of development in Arabic, English and math literacy. Methods of continuous assessment are also used to give grades for Arabic and religious studies for intermediate and secondary students.

For other subjects at the secondary levels, 50% of the semester grades are based on periodic tests, homework, classroom participation and class projects. The other 50% comes from final exams at the end of the semester. The grades are not weighted. All tests and examinations are teacher prepared.

Starting in the 2010-2011 school year, the intermediate grades and the American diploma students will use a standards-based system. In this system, the teachers of each subject area agree on certain summative tasks for each unit which will be weighted according to importance within the entire course. Some courses will continue to have final examinations but these can never be given a weight of more than 20% of the grade. All grades will be weighted and given in percentage points. In the case that any required summative task or examination has not been completed at the end of the grading period, the student will take an 'Incomplete' until the work is made up under the supervision of a teacher. In this way, the marks given will be a clear indication of the quality of work done by the student without being clouded by behavioral or other issues

There are no extra point projects, no zeros, and no possibility of work to be graded that has been done by others. Only work that is done in the classroom under the supervision of the teacher can be included in the grade and the grade cannot be influenced by behavioral matters. A detailed behavioral report will be submitted to parents along with the final grades but will not be counted as part of the final number.
THE STUDENT SUPPORT UNIT

(PREVIOUSLY CALLED THE EARLY INTERVENTION PROGRAM)
The Student Support Unit aims at early identification of students who learn differently from others. It offers a variety of services that both encourage them and assist in removing barriers or giving the extra or specialized tuition needed for the special needs student to move forward, particularly in Arabic, English and mathematics. This program is undertaken by specially-trained staff at the elementary level and, in some cases, at the intermediate level. It utilizes both pull-out and push-in, both individual and small group patters of assistance.
Co-curricular Programs
DAS considers its co-curricular program to be equally as important as the regular academic subjects because of its direct influence on students' characters and personalities. This program is carried out through many means, including clubs (see below). It also includes homeroom groups through which the students discuss a variety of matters and undertake group research on topics of current concern in the world that they then present in school assemblies. They also elect representatives to their own Student Council who meet weekly with members of the school's administration. Students also have the opportunity to show their talents through student publications, student exhibits, sports, contests and other events.
The school's program of counseling covers all its students. The discipline code emphasizes the development of self discipline rather than depending only on external control.
COMMUNITY SERVICE, CLUBS AND ATHLETICS
All students from third elementary and above are involved in club activities and community service projects during normal school hours. These activities are aimed at helping youth discover their talents and interests, develop skills of leadership and group work, and learn more about the world through involvement in projects of service to their school and to the community. Students are encouraged to choose different projects or activities each semester in order to have a variety of experiences. Most students are involved in at least one semester-long service project each year. The current list of service projects and club activities varies slightly from year to year but can be found each semester on the website.
Among the new club activities popular among the students are the Model United Nations and the Lego Robotics Activities. DAS teams have come home from national and international competitions with prizes and awards of various sorts (please see Student Accomplishments). Also popular are the clubs that focus on science projects that will compete in national and international science fairs. DAS teams have won nationally each year and have been chosen to represent the country in the International Science and Engineering Fair held in the US organized by Intel.

Athletic activities are always popular, of course, especially with the boys. There are activities during school time, during recesses, and sometimes there are after-school practices and events. DAS boys participate in on-going tournaments for several sports, such as soccer, basketball, volleyball, tennis and others. Selected teams of boys also travel to other schools and cities for friendly competitions and championships. Some DAS boys and girls also participate in athletic activities organized by local sports clubs after school time.
DAS EDUCATIONAL PHILOSOPHY
We believe that excellent education touches both the hearts and minds of students, developing their intellectual, personal, emotional, and social skills to learn and work in a rapidly changing and globalizing world. Moreover, it should provide them with a sense of belonging in their own country while also an openness to their roles as citizens of the world, committed to taking action to help make their world a better place.
Dhahran Ahliyya Schools (DAS) were founded in 1977 (1397 Hijiri) by Khalid and Sally Alturki as a not-for-profit organization dedicated to providing excellence in education in Arabic and English.
Starting with 56 students, 6 teachers, and 1 secretary, DAS has steadily grown over the past 40 years to an impressive student enrollment of 2,000 and over 200 teachers and staff.
By maintaining a focus on continuous improvement through personal and collective professional development of its educators, and remaining committed to persistent evaluation of our educational programs , DAS has established itself as one of the premier K-12 educational institutions in the country.
Important Dates