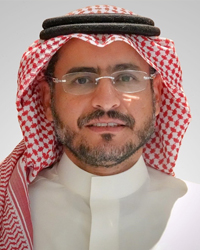 Sultan R. Al-Shaifan is the Manager of Utilities and Facilities Services Department. He has been with the company for 29 years and his responsibility includes overseeing the Department activities and efforts toward functional support of Community Services utilities operations and facilities maintenance,
incorporating the operation and maintenance services of 153 Built Government Schools throughout Eastern Province.
Mr. Shaifan earned his Bachelor's degree in Mechanical Engineering at KFUPM and Master's degree in Strategic and Information Systems from University of Hertfordshire. He held various leadership positions in Community Services which includes Manager of CS Projects Dept., Office Services Dept. and Southern Area/Central Region Community Services Department among others. He has attended various leadership & management seminars including the Saudi Aramco Management Development Seminar (SAMDS) in Harvard Business Schools, Boston, Massachusetts. He is also a member of American Society of Safety Professionals- ME chapter.