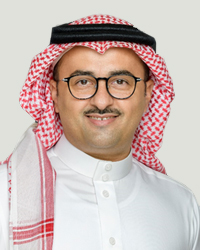 Fahad K. Al-Dhubaib is the General Manager of Public Affairs at Aramco. He oversees a diverse portfolio of global corporate communications and citizenship programs including King Abdulaziz Center for World Culture, also known as iThra. Fahad's primary professional and personal focus was to support the economic management and transformation of Saudi Arabia.
He has been working with corporate leaders and policy makers on leveraging the Kingdom's natural resources to diversify the economy, accelerate growth and job creation. Fahad played a leading role in the design and implementation of the Energy Industry's most ambitious transformation, the Accelerated Transformation Program of Aramco. He also led teams in developing and executing commercially strategic multibillion-dollar investments related to Maritime Development, Energy Industrial City, Third Party Projects, and in Aramco's Planning and Performance Management organization before joining Investor Relations.
Fahad has a passion for, and is actively supporting society through several initiatives. He is a founding member of Tamkeen and Kanaf, two charitable societies focused on transitioning orphans into the labor market and providing them (and disadvantaged widows) with medical insurance. Fahad also founded a program with his mother to promote 'free reading' among girls in public schools.
In 2015 Fahad was selected by the World Economic Forum as a Young Global Leader (YGL), a member of the Global Future Council of Energy and YGL Advisory Board. He served as president and co-founder of the Saudi Association for Energy Economics, and a board member of the International Association for Energy Economics.
Fahad holds a Bachelor of Science degree in Electrical Engineering from King Fahad University of Petroleum and Minerals and a Master of Arts in Economics from the University of Southern California – both with highest honors. He also completed several executive programs at Stanford University; the Harvard Kennedy School of Government; and Oxford University. Fahad recently completed the General Management Program, and is an alumni, at Harvard Business School.